Control4 CA10 Home Automation Controller
Control4 CA10 Home Automation Controller – Designed for the largest Control4 systems
Control4's family of automation controllers are the foundation of the Control4 Smart Home. They are purpose built to enable the smart-home experiences that are most important to your customers, including entertainment, peace of mind, convenience, and comfort. Control4 automation controllers offer a high level of performance, reliability, and functionality enabling you to deliver rich, stable smart-home solutions for your customers, from a single room to an entire automated home and anything in between.
How do you turn your home into a smart home? Give it a brain. That's what a controller is—The controller is the brain of your smart home. It manages your home automation system, allowing the electronic devices in your home to work together—from lighting and security, to music and video, and pretty much anything else in between. No matter the size of your home, whether you're automating a single room or a sprawling mansion, Control4 controllers are capable of powering your entire home automation system.
The CA-10 Automation Controller is the newest and most powerful member of the award-winning line of Control4 controllers. It is purpose built for big jobs, delivering 4× the processing power and memory of the EA-5 to provide great performance even when controlling thousands of devices. The CA-10 is fault tolerant, engineered with multiple fail-safes to protect the system and keep it up and running even if a power supply, network port, solid-state drive (SSD), or fan fails. Fail-over notifications are also available through programming events so the system can automatically notify the dealer. The CA-10 works as the primary controller to provide the muscle for the project. Secondary controllers like the EA-5 and EA-3 provide streaming music and I/O; and EA-1 controllers behind every TV provide the on‑screen TV interface. The CA-10 is also the perfect controller for small business applications, where service agreements require the most reliable solution possible—including a standard five-year warranty.
Control4 CA-10 Features
The CA-10 raises the bar for home and business automation through:
4× the processing power and memory of the EA-5 to control thousands of devices—the CA-10 is designed for the largest Control4 systems
Project is stored on dual solid-state, field-replaceable drives in mirrored RAID configuration
Dual power supplies with automatic switch-over
Oversize heatsink with heat pipe technology to keep the system cool and reliable
Redundant cooling fans powerful enough to cool the controller even when one fan fails
Dual gigabit Ethernet interfaces
Programmable dealer service notifications
Control4 Home Automation
Home Automation Systems offer the ultimate in convenience by making the electronic components and systems you already use work together, seamlessly. By integrating everything from lighting, music, video, climate control, security, cameras, intercom, access control, door locks, blinds and more; we can tie them all together and give you the ability to control them from anywhere. With one touch you can dim the lights, stream music, turn up the heat, lock the doors and arm the security system. Check in on cameras or see who's ringing the doorbell from wherever you are. It's a smarter living experience that you'll wonder how you ever lived without. And you can control them all via voice control, motion activated sensors, timers or at the touch of a button. Make your home the smartest on the block with Control4, the platform you need to control and automate everything in your home. You can start in one room and expand throughout the rest of the house at your convenience or as your budget allows.
Whether it's a handheld remote for your video experience, a touch screen to browse and play music, or a keypad to manage lights, shades, audio, and more, Control4 has interfaces that allow you to interact with your home however you choose. And should you prefer no interface at all, simply use your voice to control anything in the house. Each method is designed for simple and easy access to the features you use most, with a consistent look and feel.
The Control4 Mobile App with a 4Sight subscription provides secure access to your home while you're away. With 4Sight, you can monitor cameras, lock or unlock the doors, adjust the temperature, close the garage door, and turn off the lights from virtually anywhere in the world using your iOS or Android mobile device. 4Sight also gives you access to When >> Then personalisation, that allows you to adjust and experiment with many features of your automation after you've lived with it for a while, fine-tuning it until it's just right. And the interface is a breeze to use. You may come up with automation ideas you've never dreamed of before! An annual fee currently applies for 4Sight.
Control4 also offers many unique features and one of these is Mockupancy, a feature that alternates lights and shades, and even televisions, so that your home simulates your family's activities to make it appear occupied while you're away, providing additional security and added peace of mind. This is just one of many great features we can implement for you.
While there are many smart products available today, it isn't until these devices work together in orchestration, that you experience the magic of a smart home. And when it comes to making them work together, experience and knowledge are critical. Control4 is the only automation brand to offer a complete ecosystem and Life Style Store is the largest and only Diamond Pinnacle level Control4 dealer in Australia. Having delivered over 1,000 Control4 Systems, Life Style Store is your perfect choice for deploying a smart home system.
Everyone's view of a smart home is unique, and our experienced and trained specialists work with you to create solutions that best match your lifestyle and budget. Visit the Control4 Certified Experience Centre at Life Style Store today and turn your home into a smart home!
Control4 OS 3
The Control4 Operating System serves as the foundation upon which Control4 home automation is brought to life. And Control4 is raising the bar in smart home technology with their latest software release, OS 3. A new level of functionality and elegance will enhance the way you listen to music, control your pool and spa, and provide a slew of new features for added comfort and peace of mind in the home. OS 3 is designed to remove complexity from your life. With over 1,000 enhancements—both big and small—OS 3 delivers more usability with one-touch access and control over your entire home.
YOUR HOME PERSONALISED AND SIMPLIFIED
Control4 Smart Home OS 3 has new features, a fresh interface, and more than a thousand enhancements. Personalise and organise your Smart Home OS with favourite rooms, devices, and scenes and organize them to your liking. With swipes and taps, more quickly and easily navigate and control your smart home. Even add customised wallpaper backgrounds in each of the rooms to make them more distinct or to match your interior décor.
AT-A-GLANCE VIEWS OF YOUR ENTIRE HOME
Consolidate devices from across the entire house into a single screen, so you can instantly view the status of your security system, smart door locks, shades that are open, or lights throughout the home—and take immediate control.
You have many rooms in your house, but some that are used more often than the others. Elevate those favourite rooms and quickly swipe between them.
The Comfort screen provides weather details and allows you to adjust the temperature with a single tap. You also have a clear view of what's playing around the house with the all-new Active Media Bar.
OS 3 icons are larger and text is more legible. The icons visually represent individual states for connected devices, so you can instantly see whether a door is locked, the fan is on, or the garage is open.
VOICE CONTROL
Don't even lift a finger. Simply tell Alexa what you want to hear and where, and—voila!—instantly fill the house with high-quality sound. Control4's integration with the Amazon Alexa and Google Home family of devices makes it simple to play music anywhere with natural, verbal commands.
WHEN >> THEN AUTOMATION
Once we get your initial install completed, you can personalise your lights to turn on or off at certain times of the day, adjust them with the seasons, or have them automatically alternate while you're out of town. For instance; When the door locks, Then turn on the entry light. Or When it's sunrise, Then turn off the outdoor lights. A Control4 4Sight subscription unlocks this award-winning When >> Then homeowner personalisation tool, so you can fine-tune your system until it's just right.
In addition to giving you the ability to make your own lighting changes, 4Sight also enables you to check in on the lights and cameras from across town or across the globe. You'll be able to remotely turn on the lights for the in-laws who have arrived earlier than expected or turn off lights that the kids left on by accident.
Ultimate Home Theatre & Multi-Room Audio Video Solutions
Transform any room into a state-of-the-art home theatre. Watch TV, access your movie collection, and easily stream films online from your favourite on-demand media provider. Conveniently power-up any video game console using your smartphone, tablet or an easy-to-use remote control. All it takes is one tap to have the shades lower, the lights dim, and the amplifier to kick in at the perfect volume and you are ready for pure entertainment.
For other rooms of your home, everything you want to watch is at your command with Control4 media distribution solutions. Experience ultra high-definition video from virtually any source, on any TV with high-quality sound to boot. With Control4 home automation solutions, it's easy for everyone in the family to access the shows and movies they want, anywhere in the house, instantaneously!
Control your entire music library or favourite music streaming service from the palm of your hand with Control4. Stream high-fidelity sound to every room in your home, or just to the rooms you choose. Enjoy your personal music collection from your smartphone or tablet, or stream services including Spotify, Deezer, Tidal, iHeart Radio, Amazon Music and thousands of free Internet radio stations throughout the house. With Control4 distributed music solutions, it's easy for everyone in the family to access the music they want while enjoying it anywhere in the house, instantaneously!
One-Touch Lighting
Control4 offers a full array of elegant lighting options for homes, large or small, whether under construction or hundreds of years old. Accent your home's design with stylish lighting, make it more energy efficient, safe and secure, and leverage the magic of automation by integrating smart lighting.
Enjoy the ability to customise and add one-touch lighting scenes whenever the mood strikes, right from a Control4 Keypad or Touch Screen.
Control the light and shade levels in a single room or throughout your whole home.
Activate dimmed lighting from ceiling fixtures, and trigger pendant and track lighting for a perfect entertaining atmosphere, every time.
Customised "Movie" and "Music" buttons can be used for instant entertainment. One press dims the lights, lowers the shades, and selects the correct A/V inputs to commence the movie of your choice.
Turn off all lights in the house while ensuring exterior lights remain on with a press of a "Goodnight" button.
Home Security: Enjoy Greater Peace of Mind at Home or Away
A little peace of mind goes a long way. Protect your home or business by integrating smart locks, lighting, sensors, security cameras, network video recorders, security panels and monitoring systems with a Control4 automation system so you can keep a virtual "eye" on your house 24×7.
Whether you're home or away, with Intercom Anywhere you can monitor and communicate with any room of your smart home. Greet guests and allow them to enter even if you are running late, check in on your kids even if they aren't answering their phones, observe and communicate with anyone who approaches your front door—with Intercom Anywhere you have peace of mind in the palm of your hand. When your mobile device is part of the intercom experience, you'll always know who's at the door. From wherever you are—from the backyard to the backlands—quickly tap a custom button within the app, such as "Delivery", to disarm the alarm, turn on the light, and unlock the door. Once that important package is placed safely inside, another tap secures the house once again.
You'll have no more fear of water leaks, windows left open, a garage door left ajar, or other security concerns. Your Control4 system notifies you when there's a problem. With intuitive status icons, you get at-a-glance feedback of sensors throughout your home, so it's easy to see what's happening—or what has happened—via time-stamped activity tracking. And the Control4 system easily communicates with leading Network Video Recorders, security cameras and security panels, giving you new ways to feel safe and secure—automatically.
Your Control4 smart home can also be programmed to respond to "actions" identified by the security camera or sensor to keep your treasures safe and secure. Get a text alert when someone approaches the door. If a door opens after midnight, have lights flash and alarms sound to ward off would-be intruders. The text alert system can also notify you if your water heater leaks while you are on vacation, so you can take care of the problem long before you head home.
Studies show that burglars are much less likely to enter homes that are occupied. You can create realistic "Mockupancy" scenes that program interior and exterior lights throughout the house to turn on and off—just as they would if you were really home. Would-be intruders move on thinking your home is occupied and off limits.
Climate Control
Heating and cooling your home can be expensive—especially if your HVAC system is cranking when it doesn't need to be. Let your smart home orchestrate the proper set of functions to ensure optimal temperature efficiently. Shades raise or lower based on time of day, fans can turn on and off to help circulate air, and the AC or heat can turn on just before you arrive home, welcoming you back with the perfect temperature.
With Control4, a smart home has the ability to respond intelligently to changing conditions. Many "smart" thermostats give you the option of setting minimum and maximum temperatures for various times of the day and may give you different programs for weekdays and weekends. But there are many limitations. With Control4, your thermostat can determine what "mode" your house is in and respond with the perfect temperature, whether you're home or away. It can even adjust based on sunrise or sunset, or adapt to the current season.
Shades and Fans—Automatically
In addition to heating and air conditioning, you can supplement a thermostat with additional products that can be controlled manually or automatically through your home automation system. A Control4 Fan Speed Control Switch can enable your fans to be turned on automatically when a room reaches a certain temperature. Add a motion sensor to make sure the fans come on only if the room is occupied.
If you have a room that receives sunlight at a particular time during the day, install shades that automatically lower to help keep your home from getting overheated. During the winter, custom programming can raise the shades to catch the daylight and close them for privacy in the evening. Your Control4 system knows exactly when the sun rises and sets every day year-round, so you won't have to adjust the schedule as the days get shorter and longer.
Touch Screens
Whether you have a portable touch screen on your nightstand or a touch screen tablet mounted on the kitchen wall, Control4 gives you quick access to your favourite features, such as your audio library or customised lighting scenes. Unlike smartphones and tablets, these dedicated touch screens give you continuous access to and control over your smart home.
An in-wall or portable touch screen with camera and a wireless intercom system allows you talk "face-to-face" with anyone in your home or at the door, no matter where you are. The wireless audio quality is crystal-clear, and the full-motion video intercom system delivers superb picture quality. Place touch screens throughout your house to create an easy-to-use intercom system.
A PRO IS THE WAY TO GO
Much like electricity, plumbing, and heating and cooling, a complete smart home is not a DIY project. With individual "smart" products that are added to your home, the more complexity you will introduce because they simply don't talk or listen to one another. In order to get a seamless, fully-integrated smart home system, you'll want to hire an experienced and well-trained installer. Control4 Smart Home professionals give you confidence that your system is expertly designed, functions on a robust network, and features personalized experiences in tune with how you live.
CA10 Specifications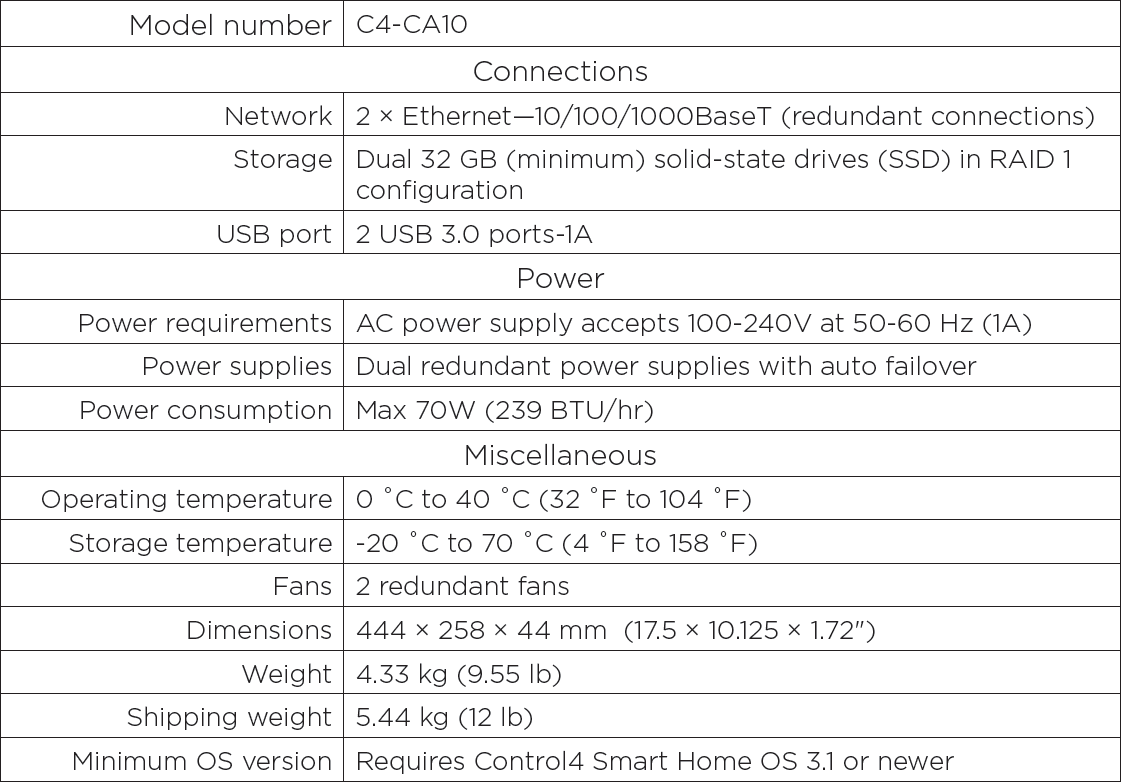 Model
Control4 CA10 Home Controller
Control4 is a provider of automation and networking systems for homes and businesses. It offers a personalised and unified smart home system to automate and control connected devices including lighting, intercom, and security.
Control4