Pakedge SE8EP 8 Port Network Switch
Pakedge SE8EP 8 Port Network Switch Powered by POE or AC Power
In stock
Pakedge Switches bring out the true performance of your connected devices. Combining features utilised by enterprise networks with a suite of features optimised for A/V devices, Pakedge switches are designed from the ground-up as the perfect complement to an A/V system – or the perfect way to power any existing network.
Enterprise Chipset
High performance switches start with the core. The engines powering Pakedge switches are enterprise grade high performance processors using switch on a chip (SoC) technology. Network processors are optimised to process AV network traffic flows at high speeds. They reduce the load on other system components by taking on many of the packet-based communications maintenance tasks such as general TCP processing, network address translation and some encryption/decryption tasks. AV Traffic management is a key function of the switch and the chipset is the heart of that functionality. A high performance chipset is critical to fast and accurate switching capabilities.
Pakedge SE-8-EP Switch
Step up your connected experience with a high performance switch from Pakedge, the 2013, 2014 and 2015 CEPro Brand Leader for networking.
The Pakedge SE-8-EP unmanaged switch is designed to be used as a standalone switch in a small network or as an edge switch downstream of a main or a managed switch in a medium size network. Designed for use in multimedia and AV networks, the SE-8-EP employs 8 gigabit (10/100/1000) ports for high traffic throughput, while minimizing lag and latency. The plug and play ports allow for easy connectivity with no setup or configuration required.
The switch can be powered by an AC adapter or a PoE switch or injector. When powered through a single PoE cable, the SE-8-EP can be located in such areas as basements, attics and other access spaces with no electrical outlets.
The SE-8-EP switch blends industrial design practices with architectural aesthetics for a clean sleek look that pairs well with other AV equipment. Its black understated elegance looks at home on a desk or in a rack.
Ideal For:
Small AV networks
Edge switch downstream of a main or managed switch
Placement in locations (attics, basements, access spaces) without an electrical outlet
Retrofit projects where running an electrical wiring is not feasible
Features
8 gigabit (10/100/1000) Ethernet Ports
Powered by PoE or an AC adapter
Plug and Play for easy setup and automated network discovery
Rack mountable
Architectural aesthetics uniform with that of Pakedge SE switches and RE routers
Easy Network Segmentation for Performance
Pakedge Zones simplify VLANs for A/V networks by breaking them into six subnetworks: management, voice, audio/video, automation, data and guest. Network ports on routers and switches under these subnetworks are colour-coded for easy identification. SX-Series switches make Pakedge Zones even easier with Zone Wizard and Zone Template technology. The Zone Wizard offers easy drag-and-drop Zone configuration, while Zone Templates allow users to choose from a series of preconfigured templates chosen based on industry best practices for optimised network performance.
Pakedge Switch Features
A/V Optimised
Pakedge Switches optimise your A/V network by utilising TruStream™ technology. TruStream eliminates lag, jitter, and buffering in streaming audio and video traffic, resulting in an un-interrupted media experience.
Flex Power
FlexPower switches are designed to allow users unparalleled flexibility of installation. Designed to be powered either by PoE+ or its included AC adapter and able to provide PoE power to connected devices, FlexPower switches allow users an easy solution for nearly any installation scenario.
POE Powered
PoE powered switches provide users with portability and versatility – particularly in retrofit applications. These switches can receive power from a PoE switch in locations where easy access to wall plugs is hard to find.
Bakpak Remote Management
With Bakpak, it's easy to get a complete overview of your network. Devices connected to any Pakedge switch can be viewed at a glance, and ports on PoE switches can be power cycled remotely – from anywhere in the world.
Simple Configuration
Pakedge switch management menus are designed with an emphasis on user experience/use interface (UX/UI) principles. We've created a simple, intuitive, easy to use menu, that is streamlined in look and feel across the entire Pakedge product line. This unified design language makes it easy to use any Pakedge product ensuring faster setup, easier configuration, and simple maintenance.
Near Silent Performance
An often overlooked, but incredibly important aspect of switches in AV environments is sound. Pakedge switches are designed for silent or near-silent performance – allowing them to be the backbone of your AV network in the most noise-sensitive areas such as conference rooms and home theatres.
A/V Aesthetics
A truly luxurious home deserves the look and feel of devices designed from the ground-up with class in mind. Elegant design, high-quality materials, and cool blue LEDs give Pakedge switches a high-end A/V look and feel. Because of this focus on design, Pakedge Switches fit perfectly alongside any A/V equipment in a rack.
Specifications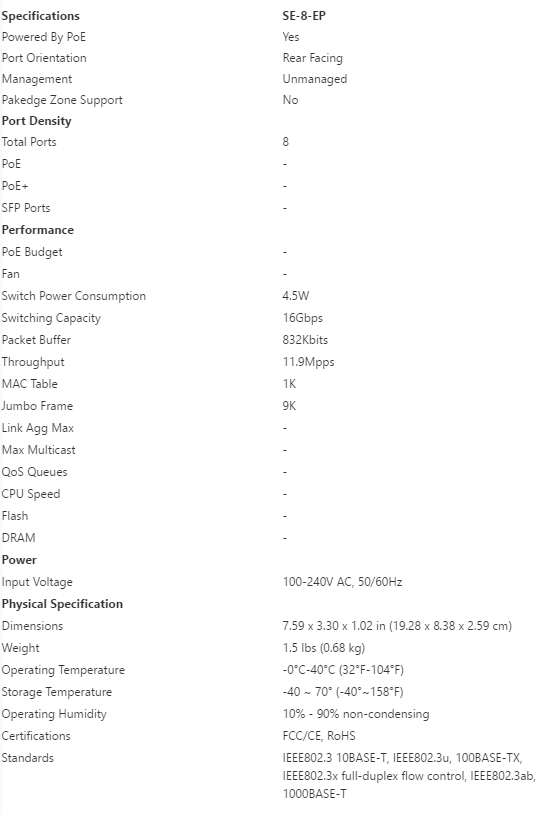 Model
Pakedge SE8EP 8 Port Network Switch
Pakedge manufactures high performance end-to-end networking platforms for residential and commercial AV applications.
Pakedge