Paradigm CI Contractor C-65IW In-Wall Speaker (Each)
CI Contractor Series – 6.5″ Mid/Bass Driver
The CI Contractor™ series address the important considerations when selecting custom installation speakers: truly superior sound, easy installation, and a new bezel-free micro-perf grille with an incredibly discrete aesthetic. The CI Series is Paradigm's affordable audiophile lineup. High-performance products for music and home theatre that represent truly exceptional value.
Quick Specs
In-wall rectangular (optional square grille).
3/4″ PTD™ dome tweeter.
6.5″ mineral-filled polypropylene bass/midrange driver
Bezel-Free Micro-Perf Grille.
High-Quality Components Make An Audible Difference
Superior PTD™ Pure-Titanium Tweeter Domes are Ferro-fluid damped and cooled to ensure smooth high-frequency performance with amazing clarity across a wide listening area.
Pocketed screw holes help to hold the drill steady, making installation a snap.
Easy-access Binding Posts feature a larger wire access hole and connect via banana plug, pin or bare wire.
Rigid ABS clamps cut down on installation time and simplifying installation.
Superior Mineral-Filled Polypropylene Bass/Midrange Cones
NEW Bezel-Free Micro-Perf Grilles.
Magnetically attached grilles: neodymium magnets hold grilles firmly in place.
No masking required—this makes the grilles faster and easier to paint, if painting is desired.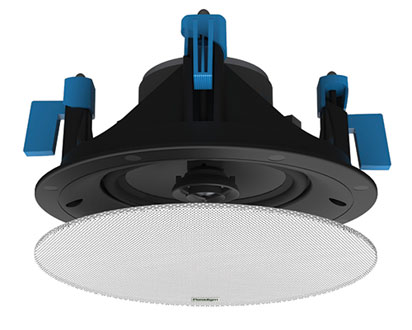 Same great sound. Faster, easier installation!
Paradigm's new High-Strength ABS Chassis and Clamp System addresses the flexibility problem that plagues all walls and ceilings. ABS stiffness combats unwanted resonances and vibrations and equally important, the new clamp design makes the installer's job easier and faster! Simply push the speaker into the ceiling or wall and screw it in … YES! It really is that simple (see illustrations below).

A behind-the-ceiling look at how the new ABS clamps work!
Without any unnecessary pressure or force, each turn of the screwdriver turns the clamp. We show the starting point, we show the screwdriver working to turn the clamp, and finally, we show the speaker locked into place inside the wall or ceiling. It doesn't get simpler or easier!

Specifications
| | |
| --- | --- |
| Design | 2-driver, 2-way in-wall, ABS chassis & mounting clamps |
| Crossover | 2nd-order electro-acoustic at 2.5 kHz |
| Frequency Response   On-Axis | ±2 dB from 75 Hz – 20 kHz |
| Frequency Response   30° Off-Axis | ±2 dB from 75 Hz – 18 kHz |
| High Frequency Driver | 3/4″ (1.9cm) PTD™ dome |
| Mid/Bass Frequency Driver | 5.5″ (14cm) mineral-filled polypropylene cone |
| Low Frequency Extension | 60 Hz |
| Sensitivity   Room / Anechoic | 88 dB / 84 dB |
| Impedance | Compatible with 8 ohms |
| Suitable Amplifier Power Range | 15-80 W |
| Maximum Input Power | 50 W |
| Finishes | White, paintable grille |
| Weight | 2.5 lbs. (1.2 kg) |
| Overall Dimensions | 10.25″ (25.9cm) Height 7.125″ (18.2cm) Width |
| Cut-Out Dimensions | 9.1875″ (23.3cm) Height 6.125″ (15.6cm) Width |
| Minimum Mounting Depth Depth required is the distance between 1/2″ drywall, or similar material. | 2.75″ (7cm) |
| | Specifications are subject to change without notice. |
Frequency Response
±2 dB from 75 Hz – 20 kHz
Model
Paradigm CI Contractor C-65IW
type
In-Wall or In-Ceiling Speaker
home theatre speaker type
Crafted in Canada, Paradigm manufactures premium high-performance loudspeakers for music and home theatre.
Paradigm