Paradigm CI Elite E-80R In-Ceiling Speaker (Each)
Made in Canada CI Elite Series – 8″ Mid/Bass Driver
The Paradigm CI Elite™ Series is Crafted in Canada and has all the technology advantages and grille aesthetics of CI Pro™, plus oversized voice coils and X-PAL™ pure aluminium cone technology for the ultimate in sound performance.
Innovative Technology makes the Difference

NEW X-PAL™ tweeter with exclusive Perforated Phase-Aligning (PPA™) Tweeter Lens that protects the delicate pure-aluminium tweeter dome and acts as the Phase Plug, blocking out-of-phase frequencies for smoother, extended high frequencies with incredible detail and higher output.
Paradigm's tweeter designs are cooled by the original ultra-stable Ferrofluid, made exclusively by Ferrotec. Ferrofluid is a colloidal suspension of magnetic nano particles in a liquid carrier with low volatility and high thermal stability.
NEW X-PAL™ brushed pure-aluminium cone woofers combine lightweight stiffness with high consistency for a greater degree of accuracy and smooth, uncolored frequency response. Matching concave dust caps ensuring more uniform dynamic response and a cleaner, modern aesthetic.
Paradigm's patented Active Ridge Technology (ART™) surrounds, made in-house and overmolded directly onto each cone, achieve greater excursion for a 3dB gain in distortion-free output (50% greater) compared to drivers with standard surrounds. Crafted from audiophile-grade injection-molded thermoplastic elastomer, ART™ surrounds are more durable and reliable, for a lifetime of superior sound.
Super-strong die-cast aluminium baskets feature integrated heat sinks for higher power handling, for better bass, better dynamics, and less power compression.
Oversized, 1.5″ High-Power Handling Voice Coil motor structure dramatically increases maximum output level and reduces power compression.
REDUCED EDGE DIFFRACTION (RED) TECHNOLOGY
RED™ Technology (patent pending) is a die-cast aluminium tweeter housing that significantly reduces negative effects of diffraction while improving critical midrange frequencies. The irregular edges and off-center placement break up standing waves typically found around the woofer cone and tweeter housing of traditional designs. Additionally, the aluminium structure dissipates unwanted heat which increases power handling and allows a lower crossover frequency, improving sound and reducing distortion.
ADVANCED FEATURES FOR A SOLID & SECURE INSTALLATION
Die-cast aluminium chassis, baffles (in-wall models only), and clamps add strength and rigidity for better bass and midrange, along with a more durable installation.
NEW Rear Component Shielding protects internal parts from debris. The translucent polycarbonate material creates an installation that will not warp. Flat covers also make it easy to lie speakers down during the installation process without tipping.
NEW Bezel-Free Micro-Perf Grilles.
Pocketed screw holes help to hold the drill steady, making installation a snap.
Magnetically attached grilles: neodymium magnets hold grilles firmly in place.
Nickel-plated, spring loaded binding postsfeature a larger wire hole to accept higher-gauge wire or banana plugs.
Premium-grade components include high-power rated resistors capacitors and heavy gauge wire inductors.
Quick Specs
In-ceiling round (optional square grille).
1″ X-PAL™ tweeter with exclusive Perforated Phase-Aligning (PPA™) Tweeter Lens and Reduced Edge Diffraction (RED™) Technology.
8″ X-PAL™ brushed pure-aluminium bass/midrange driver with overmolded ART™ surround and die-cast aluminium chassis.
1.5″ high-temp voice coil for high-power handling.
Bezel-Free Micro-Perf Grille.
A Behind-the-Ceiling Look at Paradigm's Die-Cast Aluminium Clamps
Without any unnecessary pressure or force, each turn of the screwdriver turns the clamp. We show the starting point, we show the screwdriver working to turn the clamp, and finally, we show the speaker locked into place inside the wall or ceiling. It doesn't get simpler or easier!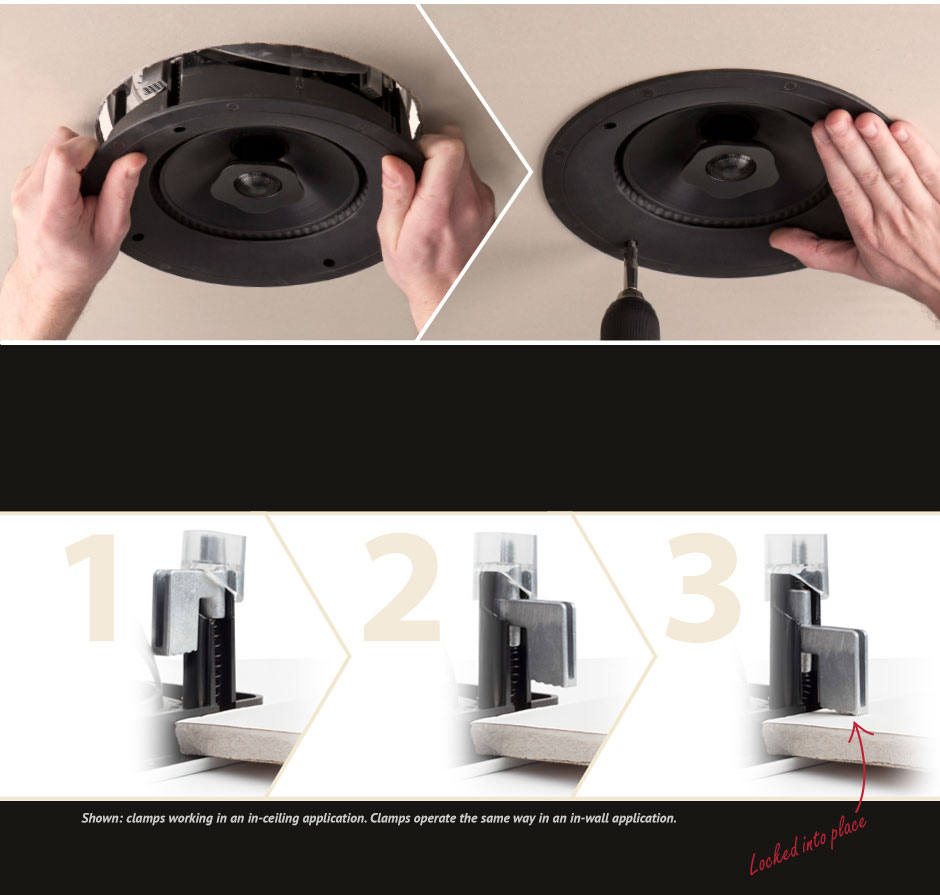 A Solid Installation
Paradigm's high-strength die-cast aluminium chassis and clamp system address the flexibility problem that plagues all walls and ceilings. Chassis stiffness combats unwanted resonances and vibrations, and equally important, the new clamp design makes the installer's job easier and faster! Simply push the speaker into the ceiling or wall and screw it in.
Specifications
| | |
| --- | --- |
| Design | 2-driver, 2-way in-ceiling, SHOCK-MOUNT™ Isolation Mounting System, nylon-blended rigid baffle |
| Crossover | 3rd-order electro-acoustic at 2.0 kHz |
| Frequency Response   On-Axis | ±3 dB from 60 Hz – 22 kHz |
| Frequency Response   30° Off-Axis | ±3 dB from 60 Hz – 18 kHz |
| High Frequency Driver | 1″ (2.5cm) X-PAL™ dome, ferro-fluid damped / cooled, Reduced Edge Diffraction (RED™) Technology, Perforated Phase-Aligning (PPA™) Tweeter Lens |
| Mid/Bass Frequency Driver | 8″ (20.3cm) X-PAL™ driver, overmolded Active Ridge Technology (ART™) surround, 1.5″ high-temp voice coil, die-cast aluminium chassis |
| Low Frequency Extension | 37 Hz |
| Sensitivity   Room / Anechoic | 93 dB / 89 dB |
| Impedance | Compatible with 8 ohms |
| Suitable Amplifier Power Range | 15-160 W |
| Maximum Input Power | 100 W |
| Finishes | White, paintable grille, black speaker |
| Weight | 6.4 lbs. (2.9 kg) |
| Overall Dimensions | 10.25″ (26.1cm) Diameter |
| Cut-Out Dimensions | 9.1875″ (23.4cm) Diameter |
| Minimum Mounting Depth Depth required is the distance between 1/2″ drywall, or similar material. | 3.875″ (9.8cm) |
| | Specifications are subject to change without notice. |
Frequency Response
±3 dB from 60 Hz – 22 kHz
Model
Paradigm CI Elite E-80R In-Ceiling Speakers
type
In-Wall or In-Ceiling Speaker
home theatre speaker type
Crafted in Canada, Paradigm manufactures premium high-performance loudspeakers for music and home theatre.
Paradigm