Samsung Q950T QLED 8K Smart TV
Experience the power of a future beyond all boundaries
* The screen when using the supplied stand is tilted back at a slight angle. This angle is not adjustable and is the design of the product. Do not place objects underneath the base to adjust the tilt of the screen as this can make the product unstable.
Reviews and awards
AVS Forum
"The Samsung Q950 is an awesome TV that applies state-of-the-art technology to every aspect of your TV experience." 6th January 2020.
Forbes
"It even fits all this picture progress inside a truly revolutionary design." 24th March 2020.
An immersive viewing experience
Infinity Display
With Infinity Display, there are virtually no borders to your viewing. Just pure, ultra-high definition entertainment. At the right viewing distance, the TV frame almost disappears – leaving nothing but picture right to the edge.
The new reality in screen resolution
8K Resolution
Our newest generation 8K technology lets you truly immerse yourself in Samsung's most detailed resolution ever.* See it and you'll believe it.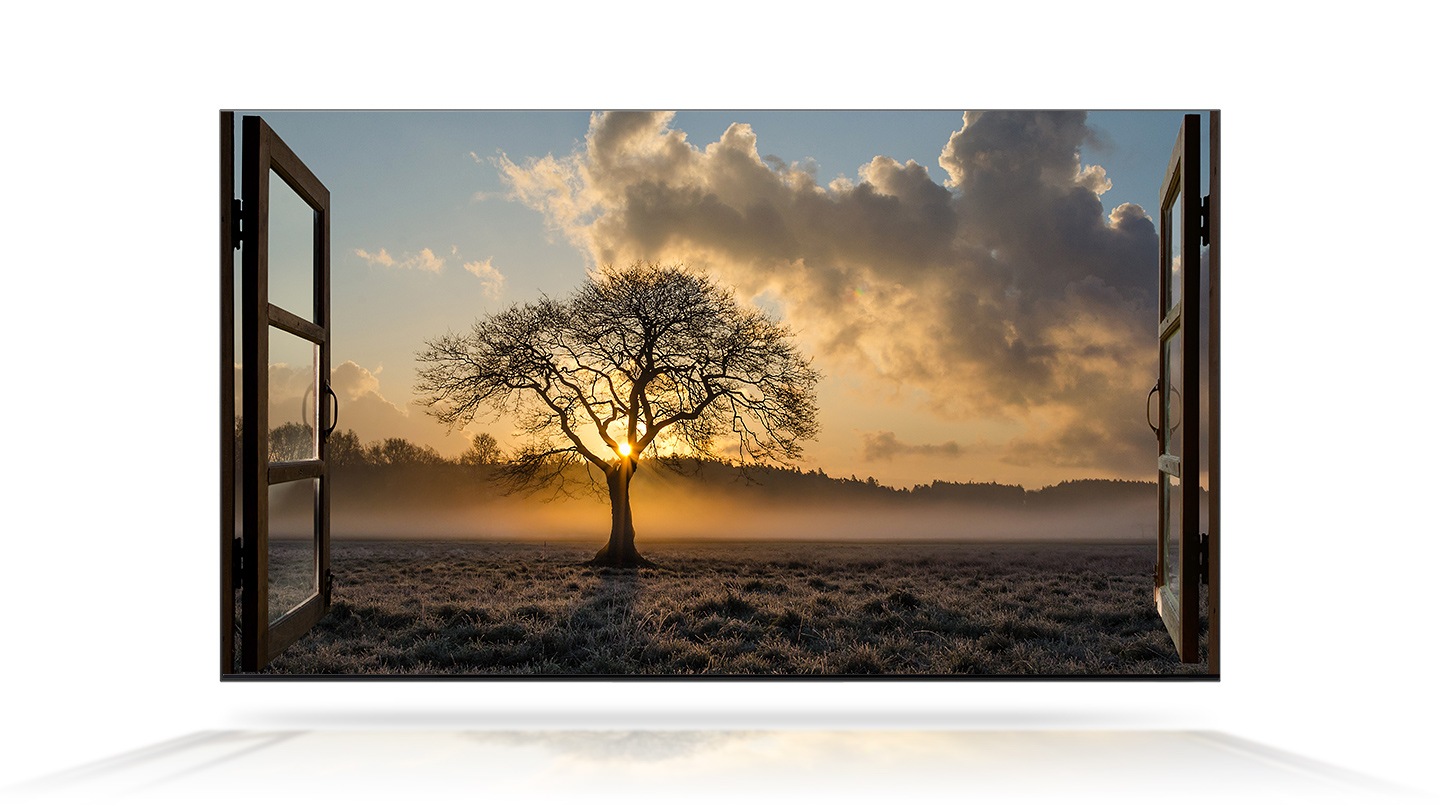 * Native 8K content availability is very limited. Picture quality of upscaled content will vary depending on the quality and resolution of source content.
Rediscover your favourites in 8K resolution*
8K AI Upscaling
Take your favourite content to a higher resolution and enjoy unbelievable depth and detail.* It's all possible with Samsung's 8K AI Upscaling.
* Native 8K content availability is very limited. Picture quality of upscaled content will vary depending on the quality and resolution of source content.
Real impact of directional sound
Object Tracking Sound +
Enjoy realistic cinematic sound experience that tracks the motion in every scene. Dedicated up-firing and side-firing speakers create immersive sound that puts you right in the middle of the action.*
* The quality of sound effects depends on the source content and source device. The availability of the feature may vary by TV size. The environment and type of installation may affect the performance of this feature.
Connect clean and clear
One Clear Cable
No more wondering what goes where! Enjoy easy installation and reduced clutter with our One Clear Cable that connects your TV to the One Connect Box to manage all your devices including power.*
* One Clear Cable connects to a One Connect Box which integrates external device cables.
Hang up without hang-ups
Samsung's Slim Fit Wall-Mount will help you hang your QLED TV securely and flush to the wall. It will also ensure your TV looks beautiful from all angles.*
* Measured from the rear of the TV, the gap may differ based on the installation and wall type.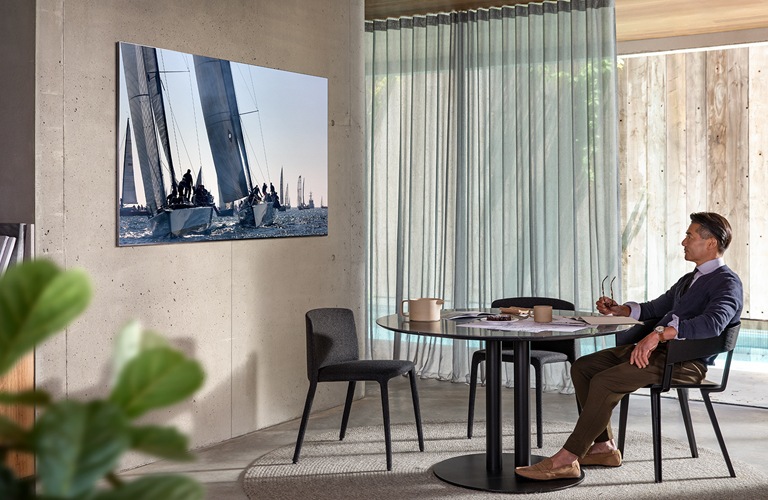 See depth and detail
Direct Full Array Elite
You won't miss a thing with Samsung's advanced backlighting control. QLED 8K provides dazzling brightness and black levels, with superb contrast and striking detail even in dark scenes.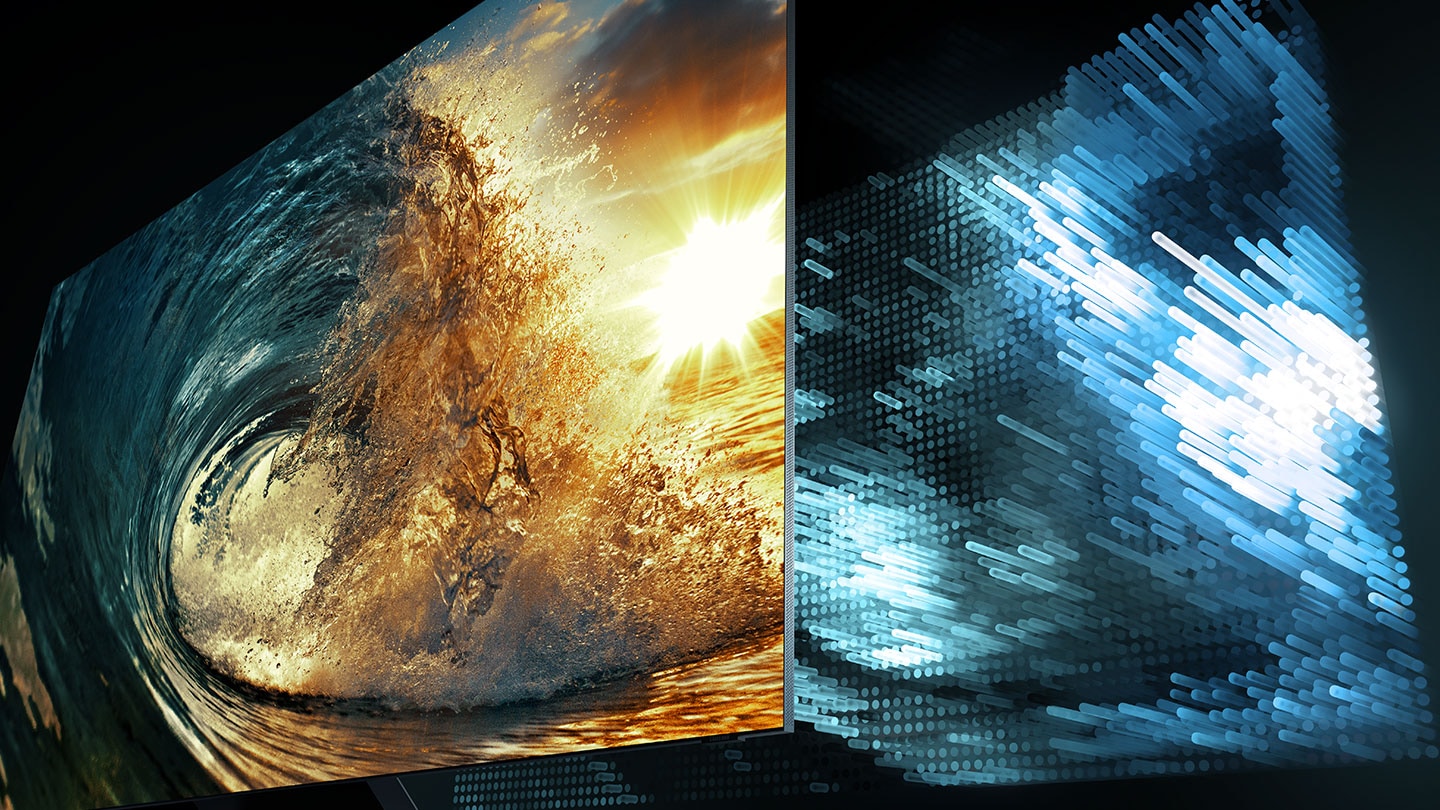 Turn blank into beautiful
Ambient Mode +
Beautifully integrate your TV's screen to suit your tastes and interior décor with Samsung's Ambient Mode +. Display art, photos, time and weather, or take a picture of the wall and set it on-screen, so your TV seamlessly blends in.*
* Ambient Mode + performance may vary depending on where the TV is installed including wall designs, patterns or colours.
Unleash vivid colour and contrast
Quantum Dot Technology
Samsung QLED TV's Quantum Dot technology delivers a world of immersive colours and contrast in a variety of lighting conditions.
Enjoy TV without closing the blinds
Anti-Glare Technology
Samsung's Anti-Glare Technology is designed to help you enjoy your favourite shows in a variety of conditions, day or night. So you won't miss the details, even in darker scenes. Ideal for Aussie conditions.
Great view from virtually every seat
Wide Viewing Angle
Wide Viewing Angle means you've got virtually the best seat, no matter where you are in the room. Delivering vibrant colour while maintaining detail, we've optimised your viewing experience from a variety of angles.
Regain control
One Remote Control
Easily control all of your compatible devices with Samsung's One Remote Control and get quick access to your favourites things like Netflix, YouTube, Xbox or a Soundbar with Smart Hub.*
* Compatible only with selected devices. Please see samsung.com/au/oneremote for more details. Internet required. Data and subscription charges may apply. Apps may be subject to change.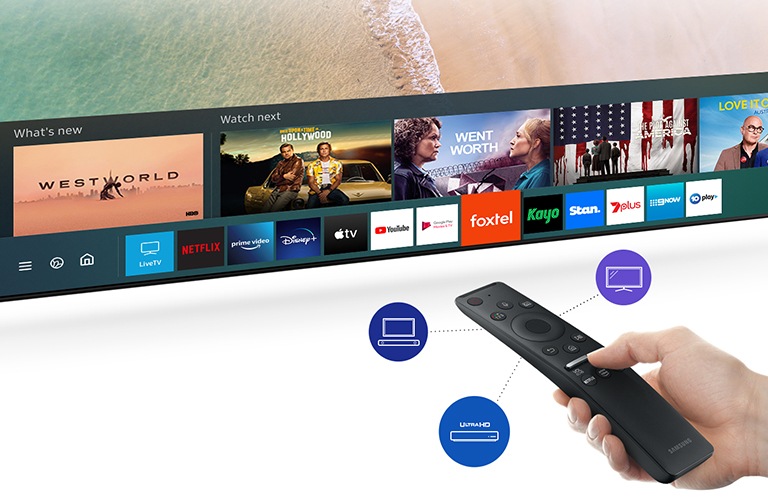 Smart made simple
Smart Connectivity
From setup to streaming, QLED 8K Smart TV allows you to easily navigate different devices & and apps.* Works with: Netflix, Amazon Prime, Disney+, Apple TV, Google Play, Kayo, Foxtel, Stan, ABC iView, SBS On Demand, 7Plus, 9Now, 10Play, Amazon Alexa, Google Assistant, AirPlay 2.
* Internet required. Data and subscription charges may apply. Apps may be subject to change without notice.
The power of voice
Built-In Voice Assistant
With Samsung's built-in voice assistants, you can ask either Bixby, Alexa or Google Assistant to control your TV using nothing more than your voice.
* Content services may vary by region and are subject to change without notifications. Voice commands recognise English, French, Spanish, German, Italian, Chinese and Korean. Not all accents, dialects and expressions recognised. This service may not be available at the time of purchase of this product.* Amazon, Alexa and all related logos are trademarks of Amazon.com, Inc. or its affiliates. Google Assistant may not be available at time of release.
Clarity in Motion
200Hz Motion Rate
Designed to keep up with fast-paced sports and action movies. Samsung's 200Hz Motion Rate helps you experience smooth, clear motion through the most dynamic scenes.
A customised entertainment experience
Intelligent Mode
Samsung's Intelligent Mode recognises its surroundings as well as the program you're watching. It then adapts the picture, sound and volume to give you an incredible entertainment experience.*
* Picture and sound quality of upscaled content will vary depending on quality and resolution of source content.
We care so you're carefree
Samsung Care
Samsung Care's 24-hour response time and expertise means that if you need assistance with a product, we'll be there to help so you don't miss a thing.*
* T&Cs apply. Metro areas only. Please see samsung.com/au/samsung-care for detail.
Reality raised to the highest power
Quantum Processor 8K
Discover just how smart a TV can be with a powerfully intelligent processor that continually optimises your viewing experience – so you always feel the full power of 8K.*
* Native 8K content availability is very limited. Picture and sound quality of upscaled content will vary depending on quality and resolution of source content.
Your new home office
Remote Access
Enhance your home office with the power of QLED TV. Remote Access wirelessly mirrors your computer's display on the TV screen.* You can also work on documents using Microsoft Office 365 from the comfort of your couch.
* TV and computer must be connected to the same network depending on the connection type. * Screen sharing (mirroring) is only supported for Windows 10 and Apple devices supporting Airplay 2. * Remote connection to a PC running on Windows is only supported for Windows 7 or later. And the operating system must be a Professional or higher edition. * Remote connection to a PC running on Mac is only supported for Mac OS X 10.5 or later. * PC accessories such as mouse and keyboard are sold separately. * This service requires setting to allow remote connections within a PC.
Take your gaming to the next level*
Real Game Enhancer
Move your gaming up a notch. Optimised through lower input lag times and enhanced picture quality, contrast and vivid colours,* Real Game Enhancer is designed to turn your TV into a pure gaming machine.
TV and soundbar in perfect harmony
Samsung Q-Symphony
Immerse yourself in sound. The speakers in the Q950T TV are designed to work in unison with Samsung Q Series Soundbars, helping to create the ultimate surround sound experience.*
* Feature only available on 2020 Q Series Soundbar models. Soundbars sold separately.
Just tap to mirror
Tap View
Sharing your screen is as simple as a tap. Use Tap View to display your phone's screen on your TV so you can enlarge photos, share a video on the big screen, play your favourite tunes and much more.*
* Compatible Samsung devices that support Smartthings Application only. * This service only works with when mobile is on and feature enabled and running within Smartthings Application
* Smartthings App may be required to be installed and running on phone to utilze feature
* Service may not be launched at the same time as release
Never miss a thing
Multi View
Multi View splits your TV screen in two, putting the content you're watching on one side, and mirroring your mobile screen on the other. This means you don't have to look away from the TV screen to glance at your phone anymore.
* Feature is available on Android 6.0 and higher mobile devices that support Mirror Casting and Apple devices compatible with Apple AirPlay2. Available on Samsung Q70T model and up 2020 range TVs. Q950T can support Free-to-air and HDMI sources only on the left side of screen when in Multi View.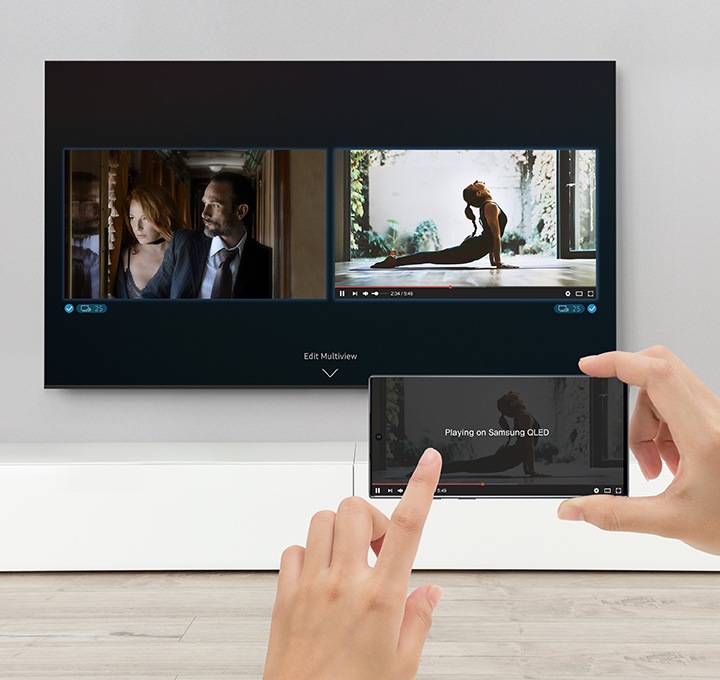 Start your smart home life with QLED
SmartThings Dashboard
QLED works with SmartThings to put you in control of your smart home. QLED links with IoT devices and sensors so you can turn on the lights, check what's inside your fridge, and even run the robot vacuum cleaner right from the comfort of your couch.* It's a whole new world.
* SmartThings works with select compatible IoT devices and may vary by region. See www.samsung.com/au/smartthings for compatible devices. SmartThings Hub may need to be purchased separately, dependent on connected device. Internet connection required. Data and subscription charges may apply.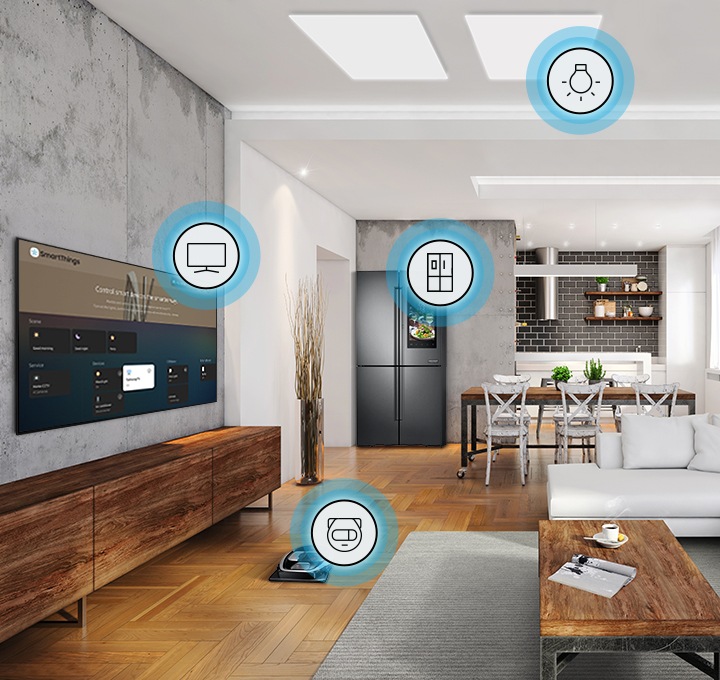 See pure picture, virtually right to the edge with Infinity Display
8K resolution delivers a picture so real, you'll feel you could step into it
Rediscover your favourites in 8K resolution with 8K AI Upscaling
ProductQLED
Series9
Display

Screen Size*85″
Resolution7,680 x 4,320
Ultra BlackYes
Screen CurvatureN/A

Video

Picture EngineQuantum Processor 8K
Motion Rate200
PQI (Picture Quality Index)4700
HDR (High Dynamic Range)Quantum HDR 32x
HDR 10+Yes
HLG (Hybrid Log Gamma)Yes
ContrastDirect Full Array 32x
Colour100% Color Volume with Quantum Dot
Dual LEDN/A
Viewing AngleUltra Viewing Angle
Micro DimmingUltimate 8K Dimming Pro
Local DimmingDirect Full Array
Auto Depth EnhancerN/A
Contrast EnhancerYes
Auto Motion PlusYes
Film ModeYes
Natural Mode SupportYes

Audio

Dolby Digital PlusYes
Dolby 5.1 DecoderYes
Object Tracking SoundOTS+
Q-SymphonyYes
Dialog EnhancementYes
Audio Pre-selection DescriptorN/A
Hole Array SpeakerN/A
Sound Output (RMS)70W
Speaker Type4.2.2CH
WooferYes
Multiroom LinkYes
Bluetooth AudioYes

Smart Service

Samsung SMART TVSmart
Operating SystemTizen™
BixbyUS English, Korean, UK English, French, German, Italian, Spanish, India English (features vary by language)
Voice InteractionN/A
Far-Field Voice InteractionYes
Multi Voice AssistantYes
Google Assistant Built-inN/A
Works with Google AssistantYes
Works With AlexaYes
TV PlusN/A
Web BrowserYes
SmartThings App SupportYes
SmartThingsYes
Samsung HealthN/A
Universal Browse & PlayN/A
GalleryYes

Convergence

TV to Mobile – MirroringYes
Mobile to TV – Mirroring, DLNAYes
NFC on TVN/A
Tap ViewYes
Digital ButlerN/A
Multi-ViewYes
Sound WallN/A
Personal ScreenN/A
Remote AccessYes
Camera SupportN/A
360 Video PlayerYes
360 Camera SupportYes
Bluetooth Low EnergyYes
WiFi DirectYes
TV Sound to MobileYes
Sound MirroringYes

Differentiation

Tune StationN/A
Auto Hotspot ConnectN/A
S-ShareN/A
Auto Data BackupN/A
Dongle Compatibility (3G / LTE / WiFi)N/A
Analog Clean ViewYes
Triple ProtectionN/A
Image BoosterN/A
Local Cinema ModeN/A

Tuner/Broadcasting

Digital BroadcastingDVB-T(T2 Ready)
Analog TunerYes
2 TunerN/A
CI (Common Interface)N/A
Data BroadcastingHbbTV 1.5
TV Key SupportYes

Connectivity

HDMI4
USB3
Component In (Y/Pb/Pr)N/A
Composite In (AV)1
Ethernet (LAN)Yes
Audio Out (Mini Jack)N/A
Digital Audio Out (Optical)1
RF In (Terrestrial / Cable input / Satellite input)1/1(Common Use for Terrestrial)/0
Ex-Link ( RS-232C )N/A
CI SlotN/A
HDMI A / Return Ch. SupportYes
eARCYes
HDMI Quick SwitchYes
Wireless LAN Built-inYes (WIFI6)
BluetoothYes (BT4.2)
Anynet+ (HDMI-CEC)Yes

Design

DesignZero
Bezel TypeZero Bezel
Slim TypeUltra Slim
Front ColourSTAINLESS STEEL
Speaker Jersey ColourN/A
Light Effect (Deco)N/A
Stand TypeFLOATING DELTA STAND
Stand ColourSLATE BLACK

Additional Feature

Adaptive PictureYes
Active Voice AmplifierYes
Adaptive SoundAdaptive Sound+
AI StreamingN/A
AI UpscaleYes
Auto RotationN/A
Décor ModeN/A
Motion Detection (Frame)N/A
Ambient ModeAmbient Mode+
Brightness/Colour DetectionBrightness/Color Detection
Portrait ModeN/A
Accessibility – Voice GuideUK English, Mandarin Chinese, Korean, French, Italian, German, Spanish
Accessibility – Learn TV Remote / Learn Menu ScreenUK English, French, Spanish
Accessibility – OthersEnlgarge / High Contrast / Multi-output Audio / SeeColors / Color Inversion / Grayscale / Sign Language Zoom / Slow Button Repeat / Auto Detection for Sign Language Zoom Area / Show Closed Caption with Zooming Sign Language
Ultra Clean ViewN/A
Digital Clean ViewYes
Auto Channel SearchYes
Auto Power OffYes
Caption (Subtitle)Yes
Connect Share™ (HDD)Yes
ConnectShare™ (USB 2.0)Yes
EPGYes
Extended PVRYes
Game ModeYes (Auto Game Mode (ALLM), Game Motion Plus, Dynamic Black EQ, Surround Sound, 4K@120Hz (HDMI Port 4))
FreesyncFreeSync Premium
G-SYNCN/A
OSD LanguageLocal Languages
Picture-In-PictureN/A
BT HID Built-inYes
USB HID SupportYes
Teletext (TTX)Yes
Time ShiftYes
V-ChipN/A
IPv6 SupportYes
MBR SupportYes

Eco Feature

Eco SensorYes
Energy Efficiency Class2.5

Power

Power SupplyAC220-240V 50/60Hz
Power Consumption (Max)515 W
Power Consumption (Stand-by)0.5 W
Power Consumption (Energy Saving Mode)N/A
Power Consumption (Typical)366 W
Peak Luminance RatioN/A
Yearly Power Consumption (EU standard)1339 kWh

Set Dimension (WxHxD)

Package Size (WxHxD)2080 x 1233 x 275 mm
Set Size with Stand (WxHxD)1877.0 x 1131.3 x 340.1 mm
Set Size without Stand (WxHxD)1877.0 x 1066.4 x 15.2 mm
Stand (Basic) (WxD)401.4 x 340.1 mm
Stand (Minimum) (WxD)- x –

Weight

Package Weight88.5 kg
Net Weight with Stand65.8 kg
Net Weight without Stand53.8 kg

Accessory

Remote Controller ModelTM2090C
Batteries (for Remote Control)Yes
Samsung Smart Control (Included)Yes
Slim Fit Wall-mountIncluded
Optional Stand SupportN/A
Optional Stand Support (Y20 Studio)N/A
15m/10m One Invisible Connection SupportYes (10m Only)
Mini Wall Mount SupportN/A
VESA Wall Mount SupportYes
Customizable Bezel SupportN/A
User ManualYes
E-ManualYes
ANT-CableN/A
Power CableYes
HDMI CableN/A
Slim Gender CableYes
Discover the latest in electronic & smart appliance technology with Samsung. Samsung offers a wide range of premium products including TV, mobiles, soundbars and more.
Samsung